Front Entry Shower Cubicles and Shower Cubicle Toilets
Shower Cubicles Front Entry 100MK2, 101, 120, 120Plus
The Chiltern Invadex range of Front Entry shower cubicles and shower cubicle toilets can be easily assembled or de-installed, providing a flexible solution to suit individual requirements for independent or assisted bathing in the home or care environment.
This section shows detailed CAD information for Specifiers and Architects.
Easy ordering
A specification sheet is available for easy ordering of shower cubicles including;
If you require further assistance or to take advantage of our free on site surveying service please call Customer Service.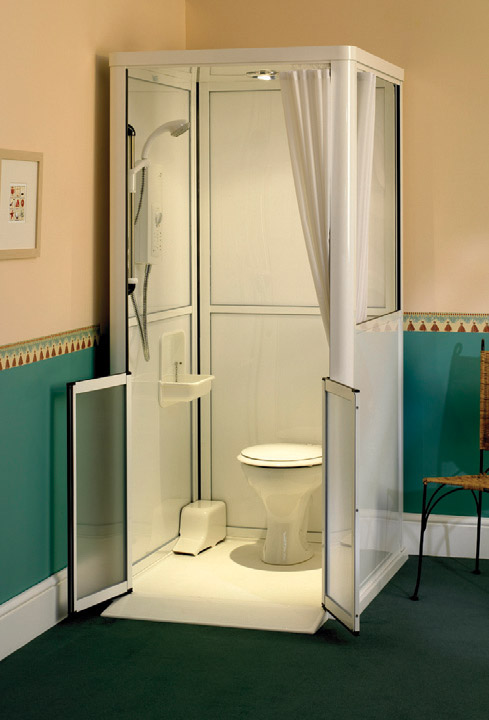 A free-standing and self-contained shower cubicle range which can be sited in the bedroom, bathroom or in a downstairs room, offering a showering facility in a location convenient to the user/carer.
Quick and easy to install on almost any surface, usually in 1-2 days. The Cubicle can also be de-installed when no longer required
No need for tiling or making good -reducing the associated cost of installation
The Front Entry 100MK2 can be recessed into the floor to create a level access shower cubicle
Options
Gravity or pumped waste options to suit drainage conditions
Trifold and single alcove door options
Fold away padded shower seat option
Light /extractor fan option
Half height side panel option - standard units are supplied with three full height panels and a half height door - as an option half height panels can be fitted allowing easy access for carer assistance.
Choice of shower units
Grab rails fitted as standard
Size options (for guidance only)
Front Entry cubicle models
Model 100MK2 - 2015H x 960W x 1037 D (plus ramp 200mm deep plus outlet 40mm)
Model 101 - 1900H x 1010W x 1030 D (plus ramp 430mm deep plus outlet 40mm)
Model 120 - 1900H x 895W x 1215 D (plus ramp 220mm deep plus outlet 40mm)
Model 120Plus - 1900H x 1010W x 1210 D (plus ramp 470mm deep plus outlet 40mm)
"I have recently had a shower room installation by your company and I now write to praise the installers. They have done a cracking job, the tiling is excellent. They were kind, courteous and kept us informed what was happening. They are both a real asset to your company"
M K, Bicester