Side Entry Shower Cubicles and Shower Cubicle Toilets
Shower Cubicles & Shower Cubicle Toilets Side Entry Mk2
The Chiltern Invadex range of Side Entry shower cubicles and shower cubicle toilets can be easily assembled or de-installed, providing a flexible solution to suit individual requirements for independent or assisted bathing in the home or care environment.
This section shows detailed CAD information for Specifiers and Architects.
Easy ordering
A specification sheet is available for easy ordering of shower cubicles including;
If you require further assistance or to take advantage of our free on site surveying service please call Customer Service.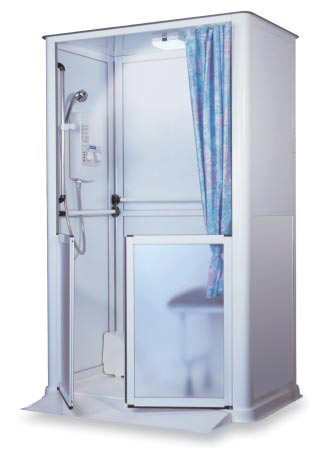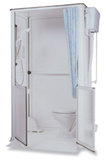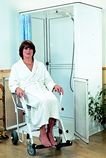 A free-standing and self-contained side entry shower cubicle range which can be sited in the bedroom, bathroom or in a downstairs room, offering a showering facility in a location convenient to the user/carer.
Quick and easy to install on almost any surface, usually in 1-2 days. The Cubicle can also be de-installed when no longer required
No need for tiling or making good -reducing the associated cost of installation
Side Entry Mk2 Shower cubicle toilet model combines a toileting facility with a shower (includes toilet and hand basin)
Options
Gravity or pumped waste options to suit drainage conditions
Trifold and single alcove door options
Fold away padded shower seat option
Light /extractor fan option
Half height side panel option - standard units are supplied with three full height panels and a half height door - as an option half height panels can be fitted allowing easy access for carer assistance.
Choice of shower units
Grab rails fitted as standard
Size options (for guidance only)
Side Entry MK2 - 2010H x 1205W x 760 D (plus ramp 250mm deep)
A case study showing a shower cubicle installation is available here - Derbyshire Council Shower cubicle case study
"Thank you for your prompt, polite service from our initial phone call to the gentleman who did the service. It is a pleasure to find such kind and friendly people to deal with"
P B, Croydon