100 Series Ceiling Mounted Hoist Range
Moving and Handling solutions for the home, nursing home and hospital
The Wispa 100 series range of hoists comprises of three hoist models classified by weight capacity;
100 Plus - 130kg (20 stone) 293lb
100 Turbo - 200kg (31 stone) 440lb
100 Max - 272kg (42 stone) 598lb
Safe, controlled transfer from the bed, wheelchair or floor
Freewheel, powered traverse and X-Y option for complete room coverage, models compatible with powered and manual turntables
Battery or transformer (mains) power options (mains powered option have no batteries to recharge and are ideal for track spans of up to 3 meters in length)
Optional infra-red handset
Simple to recharge - charge unit supplied wispa 100 series ceiling mounted hoist
Clear, bright hand control - soft touch colour-coded handset
Compatible with the Wispa range of slings, other manufacturers slings may be used subject to an assessment of risk please see a copy of our Compatibility Statement.
Emergency stop and emergency lowering
Visual and audible low battery warnings
Slack tape safety feature as standard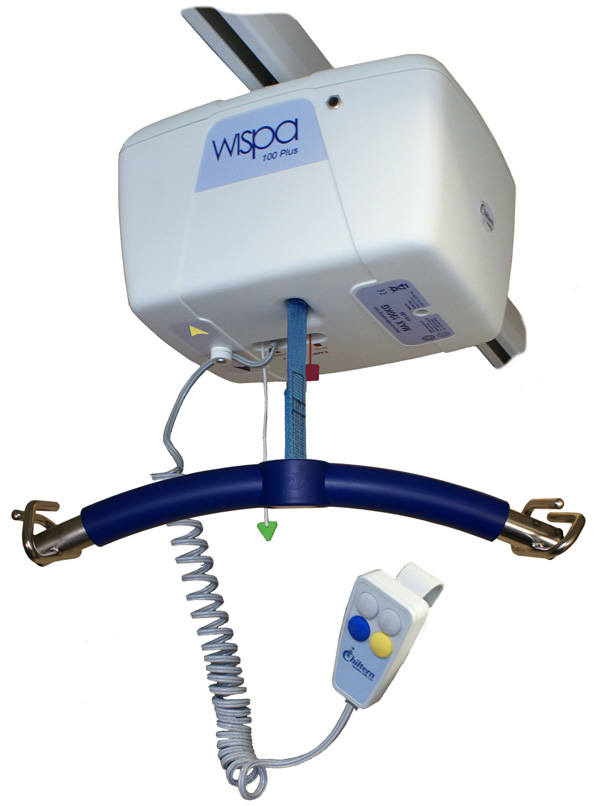 Safe, controlled transfer from the bed, wheelchair or floor
Freewheel, powered traverse and X-Y option for complete room coverage, models compatible with powered and manual turntables
Battery or transformer (mains) power options (mains powered option have no batteries to recharge and are ideal for track spans of up to 3 meters in length)
Simple to recharge - charge unit supplied wispa 100 series ceiling mounted hoist
Clear, bright hand control - soft touch colour-coded handset
Emergency stop and emergency lowering
Visual and audible low battery warnings
Slack tape safety feature as standard
All models comply with the Medical Device Directive and BS EN10535
New style low profile carry bar with full rotation action
Compatible with the comprehensive range of Wispa Slings, Standing Jackets and accessories.
"Your engineers were very friendly, respectful and professional and nothing was too much trouble. Their quality of work, cleanliness, attention to detail and the end result was excellent. My parents were both very impressed and so pleased with the works carried out by them"
M S, Hackney